Decals for NYC and NH Railroads
Decals for the NYC and NH Heavy Electric locos have not been available for many years. Model Memories is offering a series of decals for these models from all new graphics starting with the New York Central P-2, R-2, S-1/S-3, T-1, and T-3 class electric motors as well as the New Haven EP-1, EP-2, EP-5, EY-2, EF1, EF-2.
The NYC and NH repainted (and renumbered) their electric motors several times through the years, in the mid-1930's and again in the early 1950's. We've tried to duplicate as much as possible the character of the electric motor lettering so you have many choices to accurately represent your model.
Special Notes:
1- The NYC had 41 R-2 motors. We've decided to provide all of the numbers in two decal sets for each lettering style. Numbers 1202 – 1222 and 1223 - 1243 in the early lettering sets, and 302 – 322 and 323 – 343 in the later lettering sets
2- As far as we know, all unpainted model " T-Motors " had side windows in the middle of the car body. The NYC never painted Lightning Stripes on motors having side windows. These windows were covered-over before striping was applied. We've taken the liberty to design our striping and lettering to accommodate the window. It might not be 100% accurate, but it sure looks NYC!
IF WE'VE MISSED SOMETHING OR ARE INACCURATE IN OUR FACTS PLEASE LET US KNOW
Features include: Painting template (Lightning Stripes only), all numbers in the series for the loco (no need to cut-n-fit. Even the headlight numbers are grouped), accurate lettering for Early and Later years
The chart below describes the various lettering and numbers available
We recommend Scalecoat paint. It is a great match for the NYC colors

Model Memories is also offering a painting service in the event painting is not your strong suit. Call or email us for more information
Sample decals:


P-2b Lightning Stripes San Serif Modern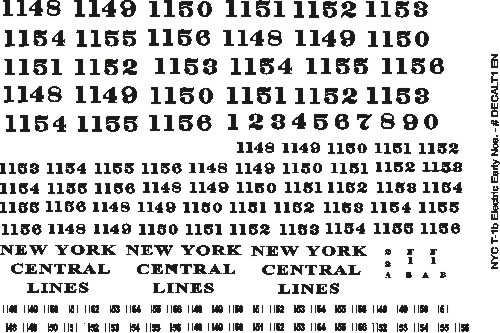 T-1b Early Lettering Antique Roman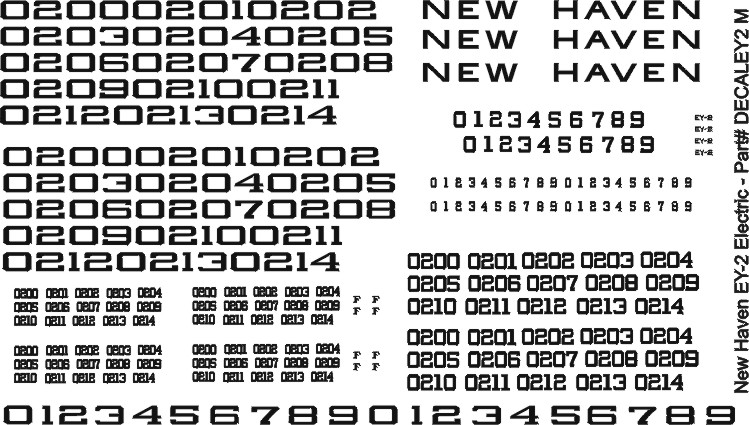 New Haven EY-2
Available in Dulux and Metallic Gold
Description

Lettering Style

Numbers

Item #

Price

NYC P-2 Electric

Lightning Stripe
San Serif Modern

223-242

#DECALP2

$9.95

NYC R-2 Electric

Early Lettering
Low Number Series

1202-1222

#DECALR2ELN

$9.95

NYC R-2 Electric

Early Lettering
High Number Series

1223-1243

#DECALR2EHN

$9.95

NYC R-2 Electric

Later Lettering
Low Number Series

302-322

#DECALR2LLN

$9.95

NYC R-2 Electric

Later Lettering
High Number Series

323-343

#DECALR2LHN

$9.95

NYC S1-S3 Electric

Early Lettering

1135-1146
6000
100
135-146

#DECALS3

$9.95

NYC T-1 Electric

Early Lettering

1148-1156


#DECALT1EN

$9.95

NYC T-1 Electric

Later Lettering

248-256

#DECALT1LN

$9.95

NYC T-1 Electric

Lightning Stripe
San Serif Modern

248-256

#DECALT1LS

$9.95

NYC T-3 Electric

Early Lettering

1173-1173

#DECALT3EN

$9.95

NYC T-3 Electric

Later Lettering

273-282

#DECALT3LN

$9.95

NYC T-3 Electric

Lightning Stripe
San Serif Modern

273-282

#DECALT3LS

$9.95


NEW HAVEN Decals
Description

Lettering Style

Numbers

Item #

Price

NH EY-2 Electric
Dulux Gold

Steam Style
Octic Numbers

0200-0214

#DECALEY2D

$9.95

NH EY-2 Electric
Metallic Gold

Steam Style
Octic Numbers

0200-0214

#DECALEY2M

$9.95

NH EF-1 Electric
Dulux Gold

Steam Style
Octic Numbers

071-0111

#DECALEF1DG

$11.95

NH EF-1 Electric
Metallic Gold

Steam Style
Octic Numbers

071-0111

#DECALEF1MG

$12.95

NH EF-2 Electric
Dulux Gold

Steam Style
Octic Numbers

0112-0116

#DECALEF2DG

$9.95

NH EF-2 Electric
Metallic Gold

Steam Style
Octic Numbers

0112-0116

#DECALEF2MG

$9.95

NH EP-1 Electric
Dulux Gold

Steam Style
Octic Numbers

001-041

#DECALEP1DG

$10.95

NH EP-1 Electric
Metallic Gold

Steam Style
Octic Numbers

001-041

#DECALEP1MG

$10.95

NH EP-2 Electric
Dulux Gold

Steam Style
Octic Numbers

0300-0326

#DECALEP2DG

$11.95

NH EP-2 Electric
Metallic Gold

Steam Style
Octic Numbers

0300-0326

#DECALEP2MG

$12.95

NH EP-5 Electric
(ALCO Model only)

McGinnis
Secony Red, Black, White

370-379

#DECALEP-5

$12.95